The Ghana Property & Lifestyle Expo (GPLE) returns for its fifth year and second virtual edition.
This year' theme is Investing Safely in Ghana. The 1-day virtual expo kicks off on November 13, 2021.
The Ghana Property Expo provides a unique professional global platform to connect a selection of reputable leading Ghanaian real estate developers, industry experts and lifestyle agencies.
The key purpose of the Ghana Property & Lifestyle Expo is to bridge the gap with the Ghanaian diaspora and international investors seeking to invest, purchase their dream or second home in Ghana. The Expo is a perfect platform to gain insight and practical information on how to invest safely in Ghana.
The Ghana Property Expo will provide quality virtual experience where you will be able to watch live presentations, interact in live Q&A sessions and meet exhibitors in their virtual booths.  Highlights of the expo include keynote and industry speakers, providing  indispensable information covering topics on residential real estate options, legal technicalities, finance, banking, and estate planning.
Virtual Global Event 2021
The GPLE usually takes place annually in London, England and bi-annually in Atlanta, Georgia USA respectively. This year we will be holding both events virtually as a one day expo. We look forward to connecting with you virtually on the day.
Exhibitors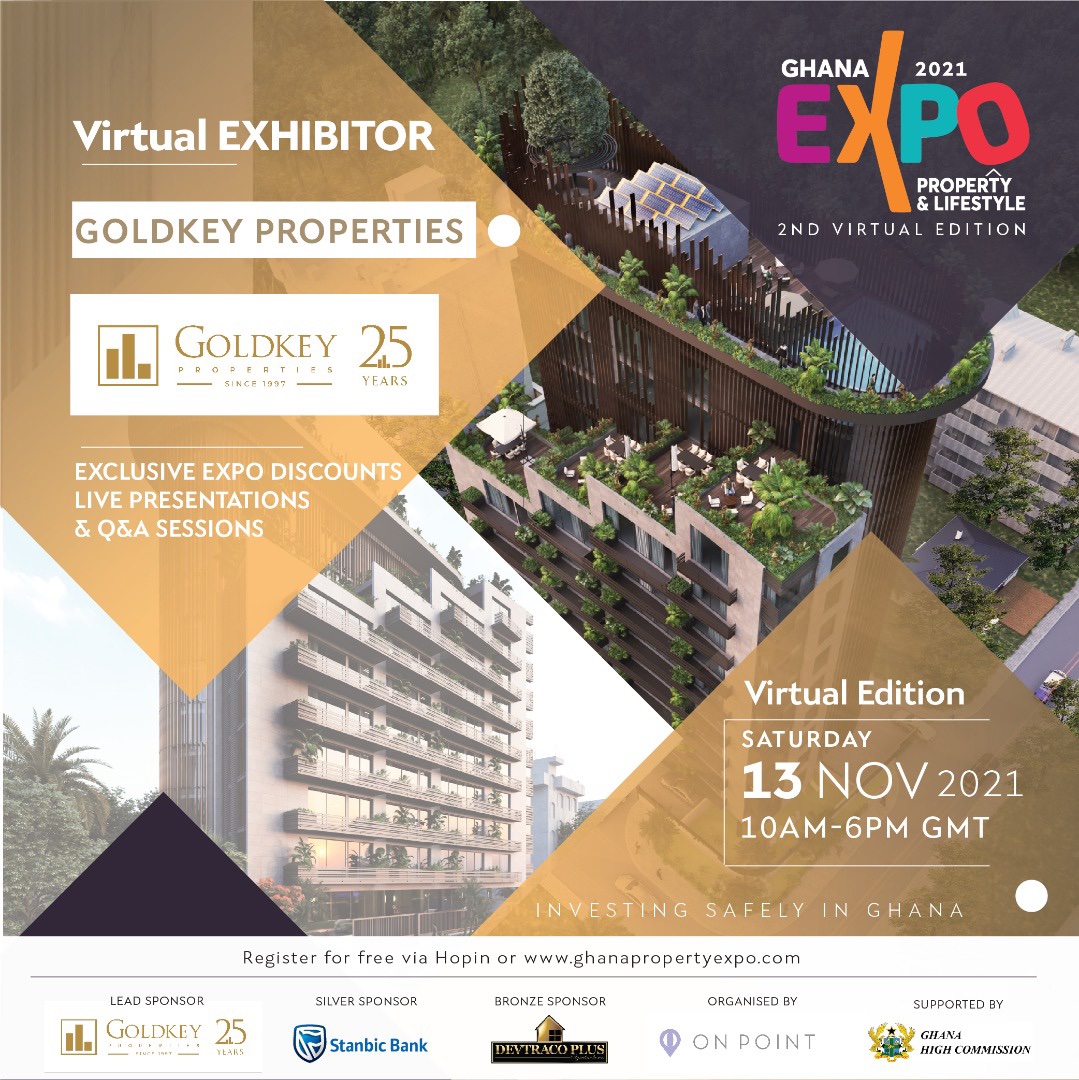 Exhibitors at the expo include a mix of top property developers in Ghana, a bank as well as service companies covering financing, real estate law and property consultancy. This year's exhibitors include:
GoldKey Properties
Mobus Property
Jacob West
FSB Law Consult
Stanbic Bank
Peace of Mind Services
On Point Property Management
Seminars
Noteworthy discussions and seminars to look out for include Discussion on Future of Ghana real estate, trends, and investing insight and tips (5pm – 5:45pm) and Diaspora Mortgages & Banking, Wendy by Nelly Sarpong Head Executive, Stanbic Bank Ghana (11:30am – 12:15pm).
---
About Ghana Property & Lifestyle Expo
Founded by Victoria and Anna Agyekum (of On Point Property Services), the expo seeks to become the number one preferred real estate investment platform for the global Ghanaian Diaspora and foreign investor. By providing a 'one stop shop' for investment services, the expo has become the gateway to residential property investment in Accra, within a safe and trusted environment.